Croom, Dorothy
Year Inducted: 2006
Category: Service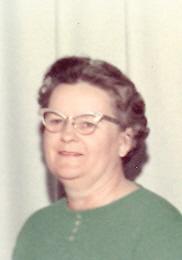 Dorothy is being escorted by her Great-Grandson Adam Smith.
Leadership - Dedication - Personality are the characteristics listed on her nomination form.
"She always thought of others before herself!"
Dorothy who is 89 years young and has been a sanctioned bowler for about 46 years, started bowling at the old Bowlarena Lanes on N. May Ave in 1955. She began bowling in the Koffee Kup League which was the finest house wives morning league around. She instantly became the Leagues Secretary and has been a League Officer all of her bowling years.
After Bowlarena closed, Dorothy moved over to 66 Bowl with the Koffee Kup League. Althea Lawton was the long time Secretary and there was no way of moving her out. But because of her leadership - dedication - and personality characteristics, she was immediately elected President of the League and held that position for over 30 years until knee surgery in 2001.
Her dedication to bowling and her responsibilities, Dorothy very seldom missed a week of bowling. She was a Wednesday morning fixture at the bowling center. Dorothy was even bowling the day of the Murrah Building bombing. She was a "hands on" President and she took real pride in the work she did. She presided at all the League meetings, making sure rules were followed. Everyone was allowed to speak and addressing any problem that the League was facing.
There were sometimes over 50 women in the League and Dorothy never let anything get out of hand. How many times can you get 50 women to agree on anything?!
She was a constant friend to many. Among her friends were fellow Hall of Fames. Shirley Trindle, June Husted, Billie Matthews, Anne Hoffines, Ginny Sledge, Lois Pettles, Althea Lawton, whom she worked side by side within the Koffee Kup League, and Edith Albro who had Dorothy chauffeur her to the 1963 National WIBC Tournament in Memphis in Ediths brand new bright red Cadallic. Now thats trust!
Dorothy was an above average bowler who averaged 160+ (remember this was the in the 1950s and 1960s). She shot her first 600 in the Koffee Kup League in 1962 with a 229 games - 616 series.
From many of the endorsements for her candidacy is two that stand out. The first is having known and the respect from Mickey Heare. Mickey didnt pass out praise very often but she often visited the Kofee Kup League and was very complimentary of its League Officers.
The other was the Proprietors of 66 Bowl, Peggy and Jim Haynes, who write, "Dorothy was a dedicated bowler who loved the game of bowling and the people that bowled. She carried on her duties as President with respect for all bowlers. She supported the game of bowling in many different ways. Bowling in Leagues, Tournaments, serving the league and helping many bowlers."
So it is with this Leadership Quality, the Greater Oklahoma City Bowling Council is proud to induct Dorothy Croom into its Hall of Fame.